New Hi-Lo Treatment Table Built for Effortless Free Operative Treatment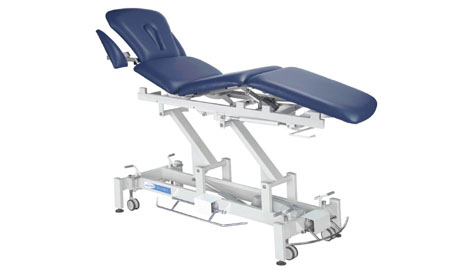 Patient comfort is always an important consideration in clinical treatment, and maximum patient comfort is at the focus of the new BAL2000 Pacific 6 Section Hi-Lo Treatment Table (Bench) from Yorba Linda, Calif-based, Stonehaven Medical.
The new table is designed to offer clinical users complete control of the cushion articulation, as well as table height adjustment. Ease of operation with "under cushion finger touch controls" and elevating bars for table height adjustment are engineered into the BAL2000 Pacific 6 Section to help provide effortless free operative treatment.
According to the manufacturer, the head and back section of the table adjust from -28 degrees to 80 degrees, and the center section adjusts from 0 degrees to 20 degrees. Arm rests are built to adjust outward as well as up and down, to help maximize patient comfort. The table is described as being constructed of a heavy-duty steel frame that has a lifting capacity of 500 pounds.
Cushions are made of 2-inch foam and are offered in six upholstery colors. The table's head section includes a breathing hole and plug, and dual foot operative casters are offered as a standard features.
Stonehaven also reports that the table uses gas struts that are hand lever activated for smooth adjustment at moveable top sections. Furthermore, the table is made to be ADA compliant, and reportedly is FDA/CE listed with hospital grade electrical cord and 3-prong plug.
Among the options for the BAL2000 Pacific 6 Section are custom upholstery width and color, foam memory face pad, hydraulic elevation pump, a paper dispenser, and foot or hand control switch in lieu of elevating bars.
[Source: Stonehaven Medical]