Hip Protection at Point of Impact Product Helps Protect Fall-Risk Patients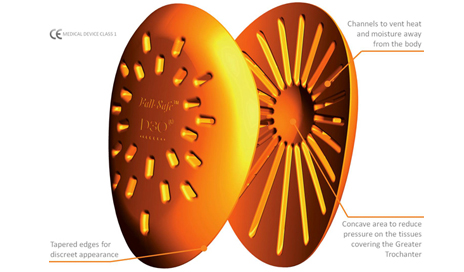 Medical Protection Technologies, Harbor, Wash, has launched what the company describes as its "next generation" Fall-Safe Hip Protectors, designed to provide a simple solution for helping prevent hip fractures. The specialized undergarments, containing a pair of pads designed to prevent fractures from a fall onto the hip, reflect an emphasis on preventing the fracture, not just the fall.
Fall-Safe Hip Protectors feature pads made from shock-absorbing material D3O. Soft and flexible in its natural state, D3O is made to instantly become rigid when subjected to the impact of a fall, only to quickly become soft and flexible again after the impact energy has been absorbed by the unique material. By remaining pliable until the moment of impact, the pads provide unmatched effectiveness, durability, comfort, and low profile—all keys to successful hip protector implementation.
D. Stephen Robins, MD, CEO of Medical Protection Technologies, says falls occur frequently and repeatedly among nursing home residents due to advanced age, co-morbidities such as osteoporosis and dementia, and prescription medications. "Despite many years of focusing on fall prevention, falls and hip fractures continue to occur at unacceptable rates," Robins says. "To complement fall-prevention strategies, many facilities are turning to fracture prevention—including the use of hip protectors—to improve quality of care and patient safety."
A media release from Medical Protection Technologies notes the Veterans Administration is particularly prominent in efforts to promote and increase the use of hip protectors in its facilities. According to the release, recommendations include practice guidelines to ensure that at-risk patients are prescribed the use of hip protectors, as well as educating patients on risks for hip fracture and the protective properties of hip protectors. Efforts to increase the use of hip protectors also are said to focus on staff members, who are in a key position to advise and influence residents and their relatives.
[Source: Medical Protection Technologies]