Noraxon Completes myoMETRICS Lab Installation at Denver-area Sports Medicine Practice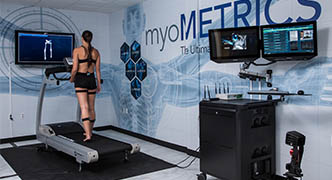 Noraxon U.S.A. Inc, a provider of evidence-based biomechanics applications, announces the successful installation of its myoMETRICS laboratory in the Denver practice of sports medicine practitioner Dr. Nicholas Studholme, DC, CCSP. Designed to be ideal for clinical and sports medicine, the lab features Noraxon's FDA-approved biomechanics solutions.
According to a media release from Noraxon, the myoMETRICS lab comes with all the equipment, software, configuration, training, furnishings and installation support to bring a highly functional, clinically relevant biomechanics lab online in days. It enables real-time measurement and tracking of rehabilitation and performance progress, which is important to a proper whole-body approach for patients and athletes. The equipment is designed to allow enable users to uncover key biomechanical indicators through quality data and insight to gain a deeper understanding of each patient's neuromuscular and kinetic chain systems.
"I work with a range of patients, from elite athletes to everyday runners, and their first priority is to get rehabilitation and treatment right. That means addressing the problem in a reasonable time frame," Studholme says. "The myoMETRICS lab is giving us great insight and real-time data that allow us to improve patient health and performance in the most efficient and effective way. From beginning to end, partnering with Noraxon has been easy, making a significant impact in my ability to provide patients with accurate, individualized assessments."
[Source: Noraxon]