EZ-Access Introduces Transitions Angled Entry Plate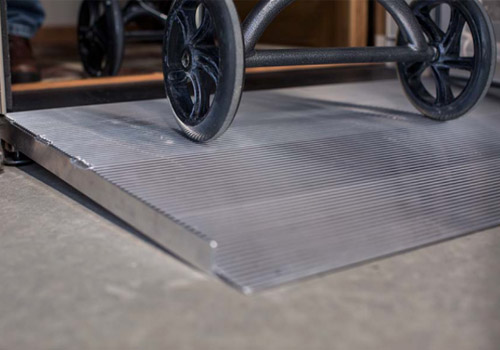 Algona, Wash-based EZ-Access announces the addition of the Transitions Angled Entry Plate to the company's line of threshold ramps. "The Transitions Angled Entry Plate is the final piece in the threshold ramp family and completes the offering, allowing dealers to fulfill all of their clients' needs from one source, EZ-Access," said Dave Henderson, senior marketing analyst for the company.
With lengths of 8-, 10-, or 12 inches and a 32-inch width, dealers can offer their customers various threshold ramp options for safety and comfort throughout their homes. The single-piece aluminum plate is designed to accommodate most mobility devices and reportedly is known for its safety features, including its 700-pound weight capacity and applied slip-resistant surface.
EZ-Access encourages dealers who are looking to offer a quick, long-lasting solution to help their customers get around easier and safer to contact the company or visit the company's "Become a Dealer" web page.
[Source: EZ-Access]