Software Provides Evidence Base for Return-to-Play Decisions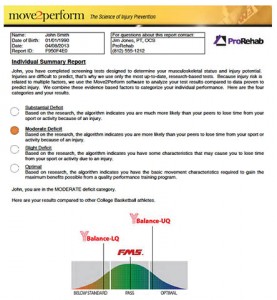 Two University of Evansville educators have developed Move2Perform as a software solution intended to help clinicians make evidence-based return-to-sport and return-to-activity decisions by categorizing patient injury risk and providing a way to objectively track progress.
According to a news release from Move2Perform, the software application synthesizes results from tests such as the Y Balance Test, functional Movement Screen, and Hop testing, to calculate an individual's musculoskeletal status specific to that individual's age, gender, and sport/activity. The software uses what is characterized as a "proprietary algorithm" and is said to have been validated in peer-reviewed literature.
The company's news release notes that mild injuries such as a sprained ankle are the primary setup for future catastrophic injuries such as an ACL tear. It points out, however, that these are highly preventable if athletes are prescreened for risk of injury. Some athletic programs may have limited resources for injury prevention, however, and so athletes can fall through the cracks.
Dr Phil Plisky, assistant professor of physical therapy at University of Evansville, and his colleague Kyle Kiesel, professor and physical therapy program chair at the University of Evansville, have stated that the key to successfully managing injury risk boils down to proper resource allocation by making athlete screenings more scientific, efficient, and effective. With the Move2Perform software, athletes are said to be able to be tested more quickly and accurately, identifying exactly who is likely to get hurt based on a complex injury-prediction algorithm.
The company reports that in 2014, Plisky worked with a professional baseball team to transform its injury prevention system. The result, according to Move2Perform, took the team from one of the most injured teams in baseball to one of the top five least injured teams. Plisky has also reportedly been asked to research and implement this software with soldiers in the United States military.
[Source: Move2Perform]