Lasers for PT: Healing at the Speed of Light

Join Frank Long, Editorial Director of Rehab Management and Physical Therapy Products, as he speaks with
Curtis Turchin, MA, CA, Director of Clinical Sciences, Pivotal Health Solutions, Laser Products Division and Karen J. Woodbeck MS, PT, OCS, ATC, CKTI, owner of Body Dynamic Clinic.
Every patient wants to speed recovery time, and therapists can push the envelope of musculoskeletal tissue healing with therapeutic laser. This modality speeds pain relief and promotes tissue repair while creating a service patients will find unique and attractive. Perhaps best of all lasers can reduce wear on a therapist's highly trained hands.
Two laser experts take the mystery out of low level laser therapy. Listen to this podcast and learn how to use this technology to provide effective results, and understand which specs are important in making the right laser purchase. Both experts also reveal how they combine laser with therapeutic taping and exercise to optimize recovery.
Curtis Turchin, MA, DC
Curtis Turchin is considered one of the experts in the field of lasers for the treatment of acute and chronic pain. He has been using lasers for approximately 27 years. In 1998 and 1999 he was Director of Clinical Sciences for Bales Scientific, the developer of the first FDA-cleared light device, and is president and director of clinical sciences for Apollo Lasers. He has published three books and more than 20 journal articles, as well as being interviewed extensively on radio and television.
Turchin is author of Light and Laser Therapy: Clinical Procedures, described as the authoritative text on clinical laser treatment. He also authored Treating Addictions with Laser Therapy, the only book published about this unique subject. Turchin has taught therapists and doctors in the United States, Europe, Japan, Brazil, Canada, and Guatemala, and is in demand as a medical-legal expert. He has a bachelor's degree in pre-medical studies and psychology from the University of Southern California, a master's degree in education from San Francisco State University, and a doctor of chiropractic from Palmer College. He is in private practice with a medical doctor in Redwood City.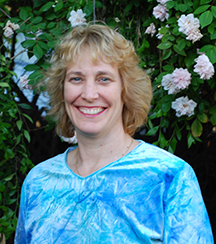 Karen J. Woodbeck MS, PT, OCS, ATC, CKTI
Karen Woodbeck is a certified Orthopedic Clinical Specialist Physical Therapist and Athletic Trainer who has more than 24 years of experience. The primary focus of her practice is on orthopedics, sports medicine, manual therapy, Pilates, taping, and laser. A philosophy Woodbeck follows is "Never Give Up!" originally coined by Winston Churchill, and embodied by the late Fr. Jim Mifsud SM, who was a mentor. Woodbeck enjoys working with clients who are motivated to improve and she is tenacious in her pursuit of helping them achieve their success.
Woodbeck believes in restoring good position with mobility while building stability, and immediately increasing function while reducing pain. Teaching the body how to do this using neuromuscular (brain-body) education is a strong part of client treatment. In order to achieve the client's goals, Woodbeck utilizes a variety of skills obtained from years of practice incorporating extensive continuing education. Study includes courses with many internationally renowned instructors in the areas of  Muscle Energy Technique, Mulligan's Mobilization with Movement, myofascial release, McConnell technique, Primal reflex release technique, craniosacral therapy, laser, proprioceptive neuromuscular facilitation, and Kinesio Taping.
This podcast is sponsored by Pivotal Health Solutions